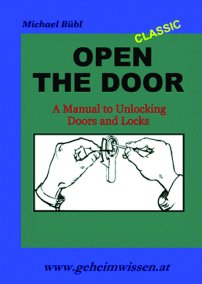 OPEN THE DOOR
CLASSIC
A Manual to Unlocking Doors and Locks



Michael Bübl,

"the man with the golden hands", acquired experience from assembly companies, key makers, but mostly as a locksmith. He has completed three master exams in locks, forging, and mechanic industry and is an accredited teacher. With this solid education, he opened his own successful business. In the meantime, he is a specialist for locks and security techniques. He has made notes from his experiences over the course of 20 years and published them in this book.

This book is written in an easy to understand form without a lot of technical jargon, and with many step-by-step instruction guides. It is directed towards those who must quickly and frequently open doors like firemen, policemen, locksmiths, custodial staff, and similar workers, but also for the interested layman. It is, without a doubt, a complete work which leaves no question open.

With over 100 pictures!

It contains exact descriptions for opening:
Cylinder locks
Warded Locks
Auxiliary locks
Other locks
Cars
Closed-over doors
Other security devices
Picking
Vibration
Tool construction
Clicca qui per ordinare il vostro eBook: In un minuto sul vostro Kindle (Computer)!
Order here:
| | | |
| --- | --- | --- |
| Classic: | AMAZON PRINT EDITION | eBOOK |
---
---